January 4, 2019
Historic Preservation in Green Cove Springs
By: Patricia Sickles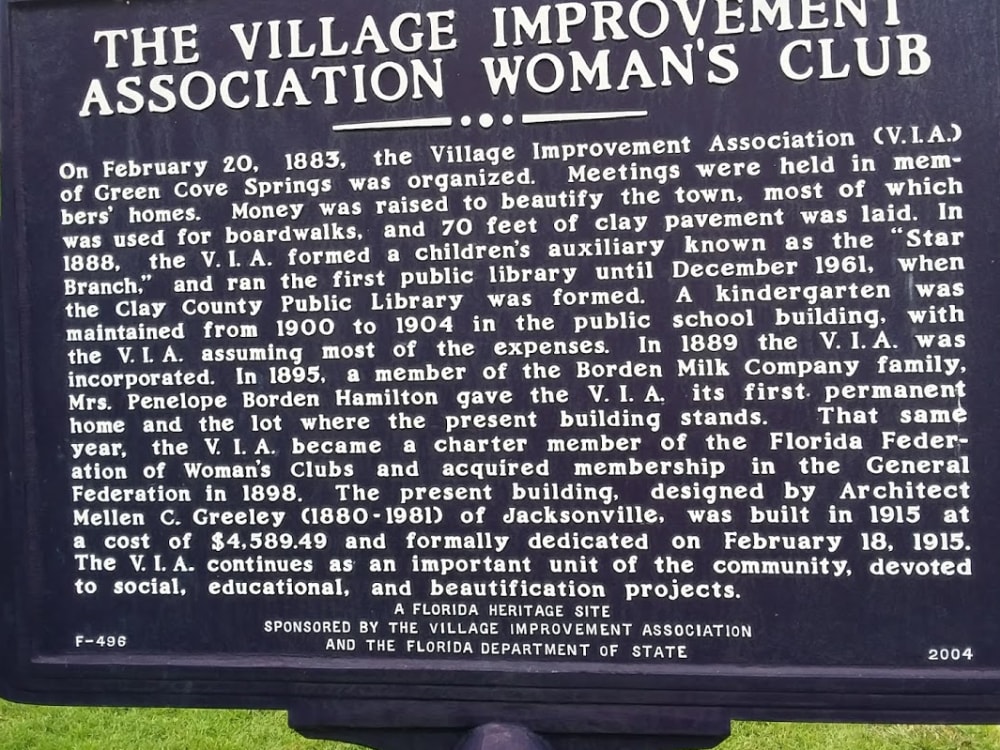 Clay County was established 160 years ago this month and Green Cove Springs is the County Seat so there are many historically important landmarks nearby. Some of them are designated by historical markers like this one at the VIA building.
Last year we began to obtain a similar marker for the River Park Inn property AKA the Dr. Applegate House at the Florida Department of State.
The Florida Historical Marker Program is one of the Division of Historical Resources' most popular and visible public history programs. It is designed to raise public awareness of Florida's rich cultural history and to enhance the enjoyment of our historic sites by citizens and tourists. These markers allow us to tell the stories of the places and people who created the Florida that we all enjoy today, by identifying the churches, schools, archaeological sites, battlefields and homes that represent our past.
Right before the holidays my quest this similar marker began to come to fruition as my application was funded by the Clay County Preservation Board and the text was approved by the Department of State.
The text on the marker tells the story of Dr. Joseph Applegate who came to Florida with the Freedmen's Bureau after the Civil War and served as the house physician at the Clarendon Hotel where he lectured on the health benefits of the sulfurous water from the nearby spring. He became a business partner with John H. Harris coordinating the operations of the Clarendon Hotel in Green Cove Springs.
While Mr. Harris managed the bottled water business from New York. Dr. Applegate gave lectures on the benefits of sulfur water to those who came here for the "cure". The "Water Cure Company" flourished thanks to Dr. Applegate's lectures, prescribing, dispensing and even shipping of the sulfur water from the spring in Green Cove Springs to New York.
It will be about three months until our historical marker can be made and installed but stay tuned. Later this year we look forward to the installation and unveiling of the Dr. Applegate House Historical Marker right here where the good doctor lived at River Park Inn until his death in 1919.
Meanwhile, if you are in the area, stop by and grab a self guided historical walking tour brochure from our front porch at River Park Inn and explore the many historically significant sites in our neighborhood.