January 20, 2019
Unusual Guest at the River Park Inn
By: Patricia Sickles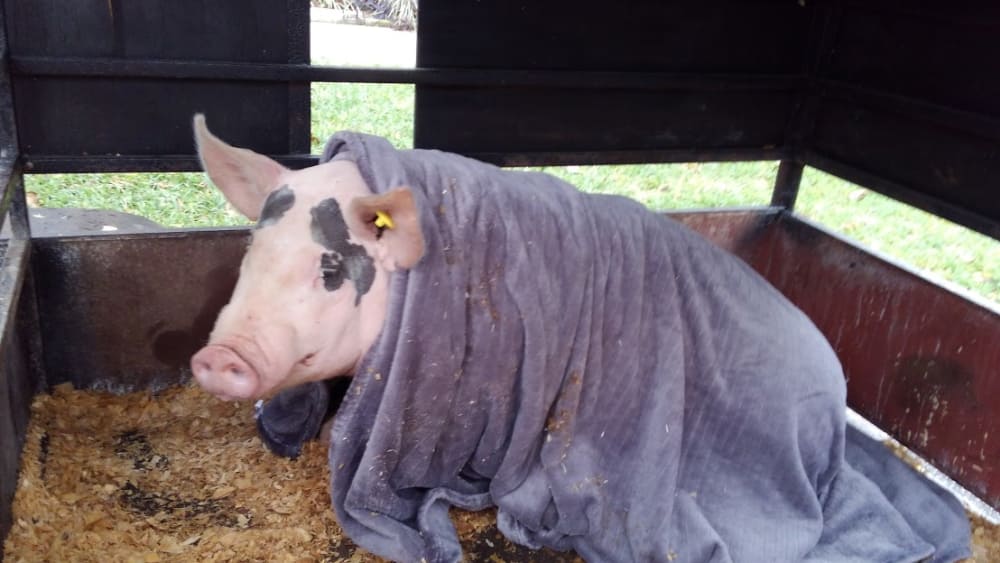 We would like to introduce Wilbur from Chipley, Florida AKA "Pig in a Blanket".
Wilbur came to Green Cove Springs and stayed at the River Park Inn this weekend with Emma and her family for a 4-H Pig show at the Clay County Fairgrounds.
It was a long ride but we are not pet friendly so, sadly, he had to stay outside in his trailer bed.
This morning at breakfast Wilbur briefly decided to explore the neighborhood. To his amazement, our neighborhood is quite different from the rural farmland where he lives in Chipley.
Not responding to requests to get back into the trailer, concern mounted about his safety. The St Johns River is at the end of the street and US Highway 17 intersects at the other end of the block.
Fortunately, Emma's mom was able to wrestle him back into the trailer although he out-weighed her by about two hundred pounds. (Sorry folks, no video of that!)
After breakfast in the dining room, Wilbur's family packed up for their trip back to Chipley but the trailer was a little drafty since the temperature was in the low 50's this morning.
As the good Pet Parent she is, 9 year old Emma shared her micro plush gray blanket with Wilbur. It compliments the lovely gray markings above his eyes, don't you think?
The 4-H Pig Show is one of many popular events at the Clay County Fairgrounds only 5 miles from River Park Inn.
After a busy day at the fairgrounds, enjoy a welcome B & B retreat with several good restaurants within walking distance, public riverfront access and a beautiful park, pool and playground across the street from River Park Inn.